With school districts facing severe budget cuts, State Representative Rick Jones said it's time that the state cut the staffing and funding for one position – that of the spouse of Governor Jennifer Granholm.
Jones, a Republican from Grand Ledge, brought a resolution Tuesday to close the office of the First Gentleman and cut the two positions that serve as his aides. Dan Mulhern is spouse of Granholm.
"At a time when our school districts are facing severe budget cuts, it's frankly unconscionable that the state is still funding an office and staff for the governor's spouse," Jones said in a press release. "When the budget is in shambles, pencils and paper always trumps pomp and circumstance."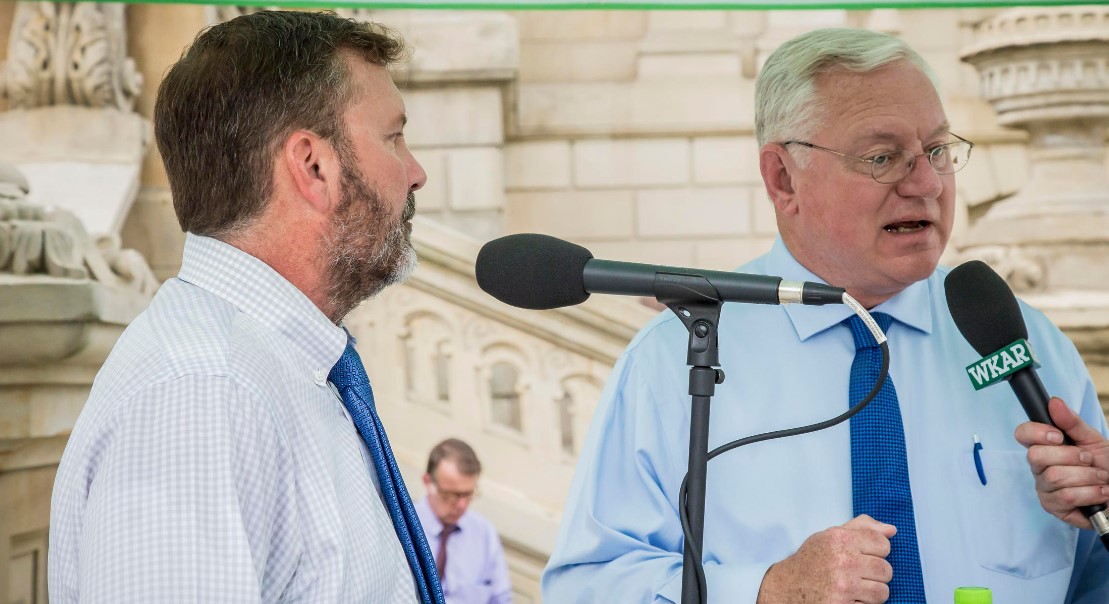 Mulhern wrote on the state of Michigan's Web site that he is a full-time volunteer "or as much time as I can find." Mulhern makes public appearances in behalf of his wife.
"There are two staff positions within the Governor's executive office that assist the First Gentleman with projects the Governor has asked him to champion of her behalf and on behalf of the citizens of our state," Liz Boyd, the Governor's spokeswoman, wrote in an e-mail. "Those two positions — one of which is currently vacant — combined are paid less than $85,000."
"The First Gentleman volunteers his time on behalf of state government and the citizens of this state are fortunate to have him serving on their behalf," Boyd wrote.
Jones disagreed.
"If I were Governor, my wife would not have any staff paid for by the Michigan taxpayers," he said. "In this time of crisis, Daniel Mulhern should set an example and not have any taxpayer-paid staff."
"My constituents are angry," Jones said in a press release. "Many tough cuts are being made in the state and yet the spouse of the governor has staff funded by their tax dollars. Whether we have a first gentleman or first lady this type of waste must stop. We don't need a ceremonial office; we need more money for our schools."
The offices of GOP governor candidates Rick Snyder, Mike Bouchard, Peter Hoekstra and Mike Cox were contacted by Reporting Michigan and asked if they would keep funding for their spouses if elected.
Only Bouchard responded.
"Pam is just like a lot of working mothers. She handles a full time career and our children and does it all now without a staff," Bouchard said in a statement released by his office.
"He doesn't anticipate that changing (if elected)," said Kathryn Martin, a spokeswoman for Bouchard.
Mulhern's paid staff pales in comparison to that of the First Lady of the United States.
Michelle Obama made news last month when the Canada Free Press reported she had 26 assistants. The news site estimated that the cost to taxpayers was $1.75 million without including benefits.